[Versión en castellano más abajo]
Read the article below written by Ana Egido and published in IP MARK after her appearance at ESADE Madrid speaking about online communities as a key tool in client-centric organisations.
***
New technologies make it possible for marketing professionals to make use of this useful tactical and strategic decision-making tool. But what is an online advisory board? What advantages does it bring to a brand? This was the topic of discussion at the last "InDigital Follow-up" session, organised by ESADE in collaboration with IP MARK.
During the event, held on 27th January at ESADE's Madrid campus, ESADE's own Marketing Director, Julio Villalobos, spoke of the increasing need to gain feedback from consumers to improve brands, products and services and even enter into a co-creation process with our clients, thus guaranteeing a deeper emotional tie with the consumer. During his presentation, he was accompanied by David Gracia, CEO of Please, a company which specialises in online solutions and market research.
Basing his discourse on the question: "How can we get clients to buy more?", Villalobos went over the several stages through which the market has evolved, from an offer-heavy economy, where the emphasis was on selling everything, to one in which the client wants to be heard and buy on-demand.
"Digitalisation has democratised marketing, the process of listening to customers and the way in which we ask them questions.  Market research was complex and previously only available to a small few. Now it has evolved into something that is simple and cost effective" stated Villalobos.
The growth of mobile devices has made data extraction a much less complicated process for the consumer, ongoing and in real time. "Online research communities have reinvented qualitative research.  They are cheap, fast and provide a new way of obtaining insights, which traditional research methods do not" ESADE's CMO pointed out, echoing the Forrester Research report.
In 2012, 45% of companies in the world used online communities when forecasting market trends, according to Green Book Research.  42% also availed of smart phones for research purposes. Online research moves €30,680m on a global scale and has grown 27% in the last year.
Can I also use an online advisory board?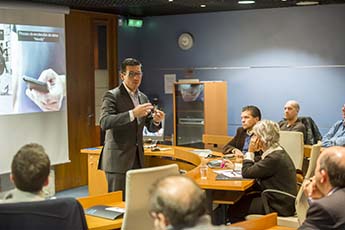 The world's leading companies discovered some time ago the numerous advantages to sounding out consumer opinion in real time, thanks to new technologies and the so called online advisory boards or online client communities.
For those unfamiliar with these terms, the advisory board is made up of a group of participants who do not belong to a company or organisation, but that for whatever reason, such as consuming goods or service, are linked to them. They hold periodical offline meetings and share their opinions. Online, the reporting is continuous.
The uses of an online advisory board are numerous, applicable to both tactical and strategic areas. Companies use the feedback generated to redefine and co-create products, new services and slogans, improve their client experience, carry out benchmark studies of the competition, detect market tendencies, etc.
As an example of the positive implementation of online advisory boards, Villalobos used the case of Porsche.  A brand of cars which, despite enjoying a high loyalty rate amongst its customers, began to see a decline in sales once the economic crisis hit.  Their directors decided to ask Porsche owners what their second choice of car brand would be, to which the vast majority of clients responded a four-wheel, all terrain vehicle.  Shortly after, Porsche launched the Cayenne.
ANA EGIDO
IP MARK
[Versión en castellano]
Ponga un online advisory board en la vida de su marca
Adjunto a continuación articulo publicado en IP MARK por Ana Egido tras la conferencia impartida en ESADE Madrid entorno al concepto de las comunidades online como herramienta clave para poner al cliente en el centro de nuestras organizaciones.
***
Las nuevas tecnologías hacen posible que los profesionales del marketing dispongan fácilmente de esta útil herramienta para la toma de decisiones tácticas y estratégicas. ¿Pero en qué consiste un online advisory board? ¿Qué ventajas reporta a las marcas? Sobre todo ello trató la última sesión "InDigital Follow-up", organizada por ESADE en colaboración con IPMARK.
Durante el encuentro, celebrado el 27 de enero en la sede madrileña de ESADE, Julio Villalobos, director de marketing de ESADE, habló de la creciente necesidad de capturar feedback de los consumidores para mejorar marcas, productos y servicios, e incluso para llevar a cabo un proceso de cocreación con los clientes y garantizar así una mayor vinculación emocional. En su exposición contó con el apoyo de David Gracia, CEO de Please, compañía especializada en soluciones online de investigación de mercados.
A partir de la pregunta ¿Cómo conseguir que los clientes compren más?, Villalobos fue recorriendo los diversos estadios por los que ha ido pasando el mercado, desde la economía de oferta, en la que todo se vendía, a la economía de la demanda, con un cliente que quiere ser escuchado.
"La digitalización ha democratizado el marketing, el proceso de escucha al cliente y la forma de preguntarle. La investigación de mercados era compleja y solo al alcance de unos pocos. Ahora es fácil, sencilla y eficiente en costes", afirmó Julio Villalobos.
La expansión de los dispositivos móviles, además, ha convertido la obtención de datos en un proceso mucho más amigable para el consumidor, continuado y en tiempo real. "Las comunidades de investigación online han reinventado la investigación cualitativa. Son baratas, rápidas y proporcionan nuevas maneras de obtener insights que la investigación tradicional no proporciona", apuntó el director de marketing de ESADE haciéndose eco del informe Forrester Research.
En 2012 ya había un 45% de empresas en el mundo que utilizaban las comunidades online para hacer prospecciones de mercado, según los datos del Green Book Research. El 42% también aprovechaban las posibilidades de los smartphones para la investigación. La investigación online mueve 30.680 millones de euros en el mundo y en el último año ha crecido un 27%.
¿Yo también puedo tener un online advisory board?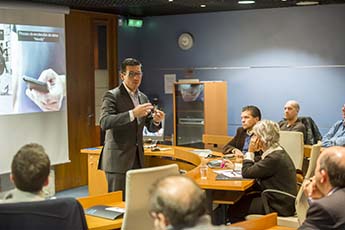 Las empresas más punteras del mundo descubrieron hace tiempo las ventajas de pulsar la opinión de los consumidores en tiempo real gracias a las nuevas tecnologías y los denominados online advisory boards o comunidades online de clientes.
Para los no familiarizados con la terminología, hay que aclarar que el advisory board está formado por un grupo de personas que no pertenecen a una empresa u organización pero que por distintos motivos, como puede ser la de consumir sus productos o servicios, están vinculados con ellas. En el mundo off line celebran reuniones periódicas y aportan sus puntos de vista. En el online, el reporte es continuo.
Las utilidades de un online advisory board son múltiples tanto en áreas tácticas como estratégicas. Las empresas utilizan el feedback generado para redefinir y cocrear productos, crear nuevos servicios, cocrear un eslogan, mejorar la experiencia de cliente, hacer un análisis de la competencia, detectar tendencias de mercado, etc.
Como ejemplo de los resultados positivos de la implantación de un online advisory board, Villalobos citó el caso de Porsche. Una marca automovilística que, aún disfrutando de un alto índice de fidelización, comenzó a perder ventas en un momento de crisis económica. Sus directivos decidieron preguntar directamente a los propietarios de un Porsche cuál sería su segunda opción de coche. Una gran mayoría respondió que un todoterreno. Poco tiempo después Porsche lanzó el Cayenne.
ANA EGIDO
IP MARK